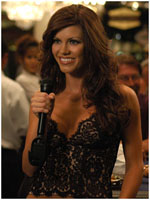 Brandi Williams, "The Princess of Poker"
It hasn't taken Brandi Williams long to make a name for herself in Hollywood. After a few short years, her impressive resume includes writing, producing and hosting credits. She has been seen on Entertainment Tonight, FOX, E!, and KTLA'a morning news show.
When she is not acting as the On-Air Correspondent for the Ultimate Poker Challenge, Brandi is working on her own show called "Home Sweet Home". Her new films ("Pretty Cool Too", "Glass" and "The Bond", in which she stars opposite Jack Black) will all be hitting the theaters by late 2007. Brandi also spends a great deal of time raising money for the Humane Society. Click here for more on Femme Fatales Magazine's "Sexiest Women of 2005".
Click here for Brandi's Photo Gallery

Visit Brandi's web site at www.brandiw.com